29 March 2019
Halshack- (Walla/Hoonch--Apr 2019) SHACKSTARS- "Gangsters of Suburbia"
Halshack Indie Rockcast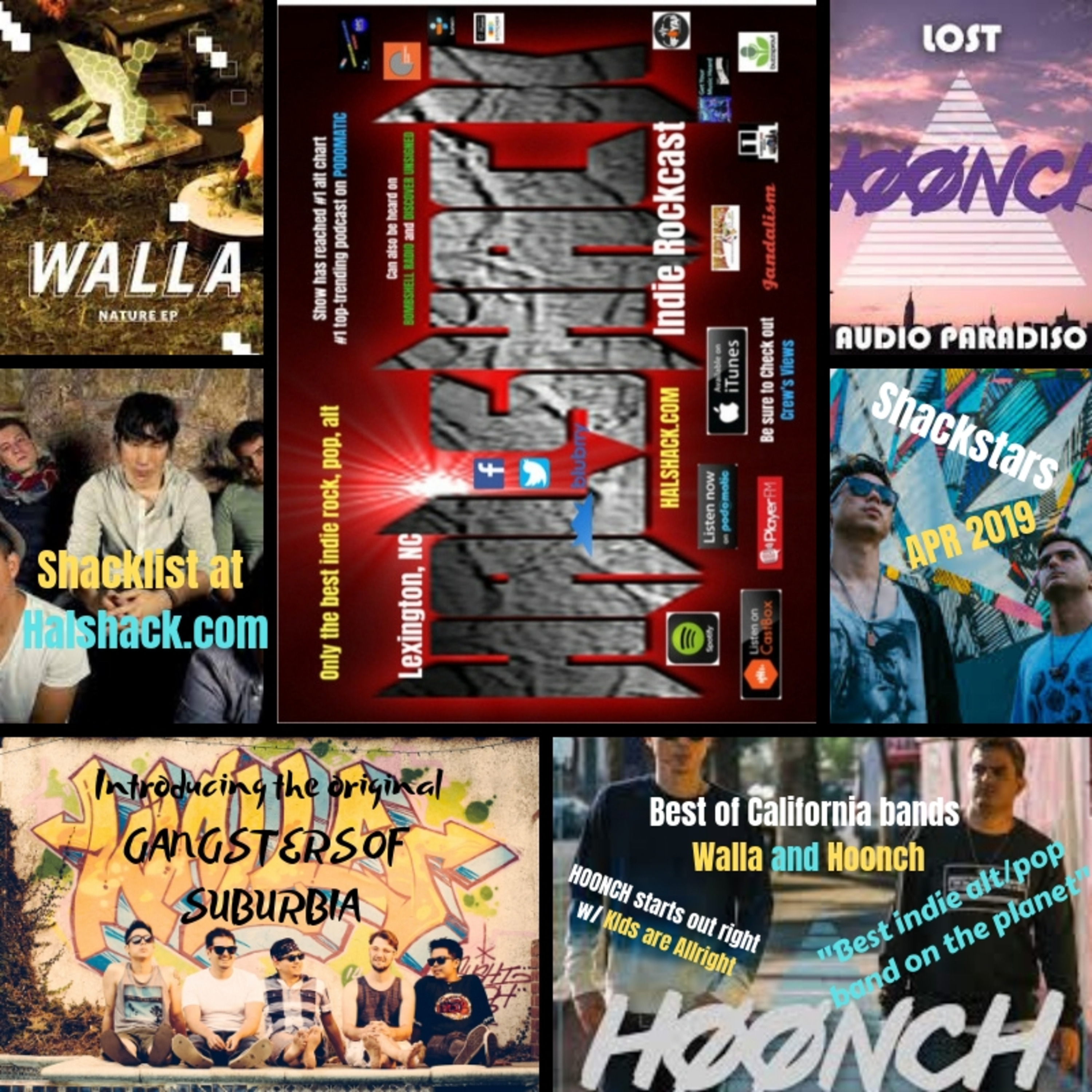 "Oh no he didnt"..lol. You know I did!! Introducing the original Gangsters of Suburbia, the one and only, California based pop-synth group Walla/Hoonch. (Music-only) one-hour special of the best tracks from this awesome eclectic synth pop act. its part of my "SHACKSTARS" series. Be sure to check out other "Shackstars" episodes. These guys have been with me since the shack opened up its little doors and windows and let all these tunes out to the world. They are absolutely the best damn alt/pop band anywhere working today!!! Ive heard BORNS, Walk the Moon, Passion Pit, Young the Giant, Foster the People and any other well known alt band out there today in a similar fashion. These BIG LABEL bands and others in a similar vein can't EVEN begin to touch the writing prowess of Jonathan Hoonch Kim and the creative blending of the synth laden keys of Gabriel Nava Rodriguez. This band has been quietly in development for years and are now ready to storm your earwax and give your brain an orgasm..lol HIT HIT HIT band, nothing but potential hits one after the other from this very polished, very skilled group of musicians from Cali. Walla officially started in 2012 with the release of their first EP which included "Animal of Love" and "Rising Tide". From that success they would push on to release 2 more successful ep's as their sound grew and matured into "Nature" ep and then went for more indie type direction with "Gangsters of Suburbia" hitting the digital landscape by 2015. After that, Walla began to work on cultivating that sound into something more.....Here come problems within the band and creative differences began to manifest within the core 5 members. Soon, that would lead to the demise of Walla after much publicity on the web and thru digital services like Spotify and Soundcloud. Walla had built a name for themselves and was looking at possible record deal from Mountain Dew owned "Greenlight Records". The boys had built one heck of a reputation in SoCal and were headed skyward before creative differences got the best of the group and it all came to a screeching halt. Circa 2017, from the ashes of the former act rises a new kind of "Walla". Their name is HOONCH, taken after the middle name of the lead and consisting of the main 2 creative forces that made Walla so great (Kim and Rodriguez) This band means absolute freakin' hardcore business!! If you thought Walla was good, Hoonch takes Walla and exponentially improves on their formula to bring you the absolute best most catchy, hooky, fun alt pop gold this side of ..hmmmm..well the planet actually. No joke! Ive scoured the globe. Ive listened to to all the bands like this that are known and popular from years past to present day and you cannot and will not throw a name at me of band from this style and say its better. I have always and will continue to always call this band the "Cali Pop Kings" cause until the labels or YOU the listener or fans can prove me wrong otherwise. There's not a group out there right now with more character of hit potential than what these guys have to offer. Mainstream pop GOLD and millions of fans across the world is just the tip of this acts potential. See for yourself. I don't have to sell them. The music sells itself but I just love them a whole lot. These are "my boys" and you will be impressed at the sheer amount of radio hits this band has under their belt and tucked away hidden in their library. These fellas too good to be unknown and swimming around in the sea of obscurity. THEY INSTANTLY BECAME MY DAUGHTERS FAVE BAND FROM THE MOMENT SHE HEARD THEM. College crowd just eats this act alive!! WWW.HALSHACK.COM Find all these Halshack including the shacklist for the episode at my website as well as find more great shows and tunes at SPOTIFY, ITUNES, CASTBOX, PODOMATIC and PLAYERFM. Thanks for being a part of the indie community and helping to make HALSHACK RECORDS a future reality.